First things first, I got new shoes.  Not usually a story-worthy event, but as any runner knows, shoes can be a big fuckin deal.  Lately I've been running in my Mizuno's with Dr. Scholl's inserts.  Running with inserts changes the feel and fit of your shoe, so I decided to take my physical therapist's advice and get motion control shoes.  The most stability money can buy.
Marathon Sports is an amazing store.  It is located at the finish line of the Boston Marathon.  The salesperson (they're so good I refuse to call them salespeople) running expert watched me walk and was reluctant to go full motion control, since they're just not great for running.  Without getting into an argument about minimalist shoes, flexible, light weight shoes are better for racers.  I'm not a racer.  I'm a perennially injured attempt-er.  Nonetheless, she started with a more stable stability shoe and watched me run, saw my ankle be all wonky, and moved up to motion control shoes.  She also checked the fit and made me go up another half size.
I really hate my toes having all this room to move around.  I tend to curl them and tap them and stuff if they have the room…while I'm running.  I like my sneakers to be tighter than that.  But I'm no expert and listening to one can't do any more damage than I've done, so 8 1/2 it is.
After my jogs around the store and a brisk jog outside in my Ann Taylor work dress, I settled on Brooks Addiction.  They're hideous.  They look like grandma shoes.  I could fit 3 orthotic inserts in these.  Yet, she tells me they fit and my ankles don't do wonky things when I run in them, so here I am, $119 later, with the ugliest shoes ever: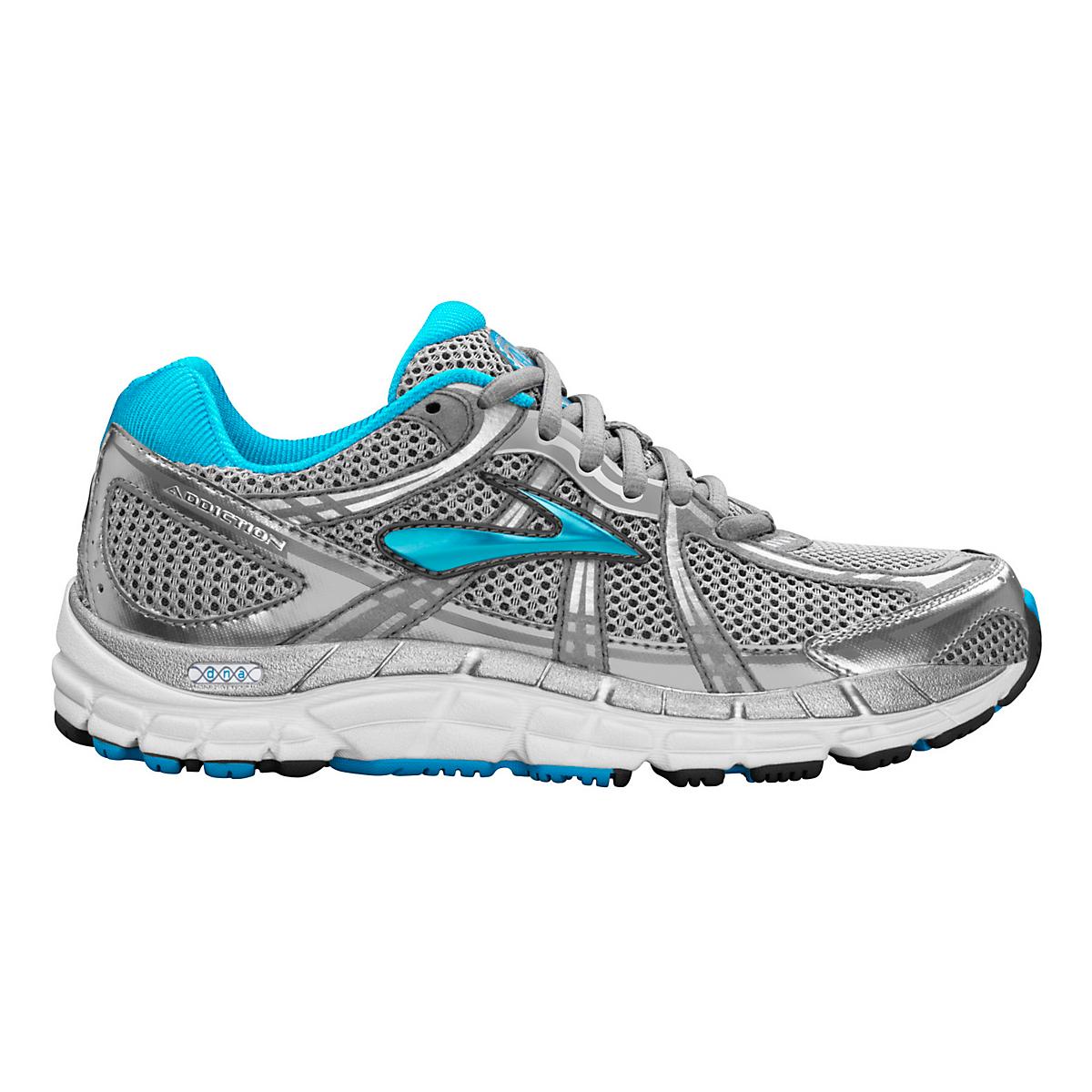 To counteract the swampdonkey of running shoes, I went shopping for apparel.  One of the biggest things I missed about running was running clothes. They're made from the coolest fabrics. They're super comfortable. I look amazing in them and I feel like a badass.
Here's my look from 6AM this morning when it was a brisk 21°F outside and pitch black.  I used to be really in tune with what I should wear in all types of weather and now, I have to consult with Runner's World what to wear tool.  It's especially difficult in the cold because I'm supposed to be walking 4 minutes to every 2 minutes of running.  21° is way too cold to be walking in running tights and a sweatshirt.
Another look at the pants and hideous shoes…