Resolutions. The word fills me with dread. I had it in my head that I had made a ton of resolutions last year that I didn't come anywhere near accomplishing, so I was afraid to look up what they were. Turns out I was wrong. While I made smaller goals throughout the year that I didn't accomplish (helllooo weight gain and no physical therapy), I actually did AWESOME on my resolutions.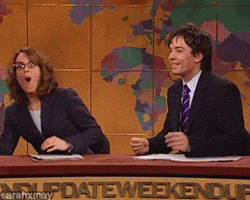 Despite the shorter term goals that I largely ignored (besides running…I totally rocked running this year despite being sidelined with a torn ligament), my only New Year's Resolution was to run in a race.  I didn't even set a goal distance because at the time of writing it, I was just finishing up physical therapy for tendinitis and had no idea how far I could increase my mileage without further bouts of pain.  In 2015 I did run in a race.  Two, actually.  And they were both half marathons.  Booyah!  Race recaps HERE [2:39] and HERE [2:15].
I had no idea my resolution was already, actually and fully accomplished.  Twice.  That's awesome!
Another ongoing resolution that I didn't write out this year, but is with me nonetheless, is to smoke less.  In 2014 I did NOT smoke 70% of the days of the year.  That sounds pretty good…coming from someone who used to smoke every day (so my nonsmoking percentage used to be 0%).  I had set my 2015 goal to be a nonsmoker 80% of the days.  I did not meet that goal, but I did reach 77%, which is an improvement over last year, so that's still good, right?  🙂
For 2016, there are a million things I want to do better.  Career, health, weight, fitness, reading, education, saving money, friendships.  
I don't want to make a bunch of resolutions and not accomplish them (like I thought I did this year).  I want to make one (taking Keen Peach's advice!).
My one resolution is to get in shape.  That doesn't sound like a very SMART goal, and it is a composite of a lot of things I want to do.  It involves running and weight training more, eating better, and losing 20 pounds.  I know the weight thing is shallow and probably setting myself up for failure and disappointment, but it's something I always want and always half ass.  So, this is the year I really try.  Hopefully a wedding and a honeymoon are motivation enough to kick my ass into gear!
I think my keys to success are making better small decisions.  Deciding not to buy a croissant (I failed at that today, but it's still 2015!).  Deciding to take an exercise class, instead of doing 10 push ups and calling it a workout.  Deciding to make dinner instead of ordering Chinese.  These are all easy decisions that I fail to make on a regular basis, so now I start trying.  Every good decision is a success, regardless of results, and I've already started.
HAPPY NEW YEAR!!