SUMMARY
Honestly, this whole week was sort of a 'fuck it' week.  My favorite two people at work are leaving, so not only was I eating my feelings, but I also had fancy going away parties to do it.  Wednesday night we had a lovely date night at the Boston Children's Museum adults-only night.  That involved adult beverages and fast food. Thursday was my 5K race, which sounds healthy, but 2 free beers + cheesy bar food = fuck it.  And then Friday through Sunday was my bachelorette weekend.  I didn't log calories for Friday through Monday.  Yeah, my bachelorette needed a 2 day recovery.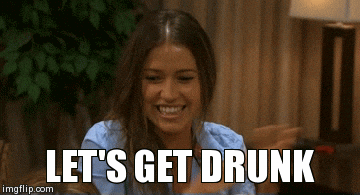 Run 2x per week X

Total Mileage = 3.1 miles

Yoga X
Workout ✓
PT ✓
Avg 1350 calories/day X
WORKOUTS
Monday 8/8 – PT 
Tuesday 8/9 – Standing Abs (3 sets) + Back Workout + Foam Roll – I was supposed to run today, but my toe is still bugging me from stubbing it 2 weeks ago and I want to be in the best shape for that race on Thursday.
Thursday 8/11 – 5K @ 9:29 pace – Goddamn it was hot.  With the heat index, felt like over 100.  There are 2 more races left in this series, both in September, so hopefully they are cooler and have some PR potential.
GOALS
Back to the grind…
Run 3x
PT 2x
Workout 3x
Yoga 2x
Average 1350 calories/day